Pasta Carbonara is an easy, rich, and delicious dish to make. It's simple and quick enough to be the perfect weekend dinner — while still tasty enough to serve guests.
Pasta Carbonara features a creamy egg-based sauce and spaghetti pasta. The egg is cooked by adding it to the cooked spaghetti, with a hint of pasta water and lots of parmesan cheese.Pancetta is often used in this dish, but I opt for bacon instead as it adds just the right amount of smokiness to this pasta dish.
It appears hard to go wrong with so few ingredients, but without the proper technique, you're in for a disaster. Separation in your sauce is an easy accident, as is not thoroughly cooking your
egg mixture. But don't fret! I've got all the tips and tricks you need to make the most delectable Pasta Carbonara.
What is Pasta Carbonara?
Pasta Carbonara is a classic Roman dish, distinguished by its sauce. By combining hard cheese, beaten eggs, pork fat, and lots of parmesan, you get a rich and creamy sauce that is entirely indulgent.
Spaghetti is the most common pasta, but linguini, fettucini, and rigatoni are also favorites.
This recipe dates back to the 1940s and was unrecorded until after the Second World War. Its name "carbonaro" is the Italian word for "coal burner," suggesting that this meal may have been
created for charcoal workers as a hearty and filling meal after a long day's work. Others believe that it was created as a tribute to the Carbonari secret society prominent during the repressed stages of Italian unification.
Tips for the best Pasta Carbonara
1. Prepare your ingredients before you start cooking.
Pasta Carbonara is a dish that comes together fast, and it must be cooked while everything is still hot. Slicing, dicing, and beating your ingredients before boiling the pasta water is essential.
2. Do not let your pasta water or your pasta cool.
You want to add your pasta water to the beaten eggs while it's still extremely hot. This keeps the eggs from curdling when added to the pasta. Along the same lines, avoid letting your spaghetti cool. The heat from the pasta is what ultimately cooks the eggs. Timing is everything with this dish.
3. Eat it right away.
Pasta Carbonara does not do well reheated. While it does still taste delicious, the creamy egg-based sauce will harden and lose its creamy texture. That doesn't mean you should toss leftovers, though! Add a little bit of cream or water to your leftovers and reheat in the microwave (or better yet, on the stove). This should help it keep its creamy texture.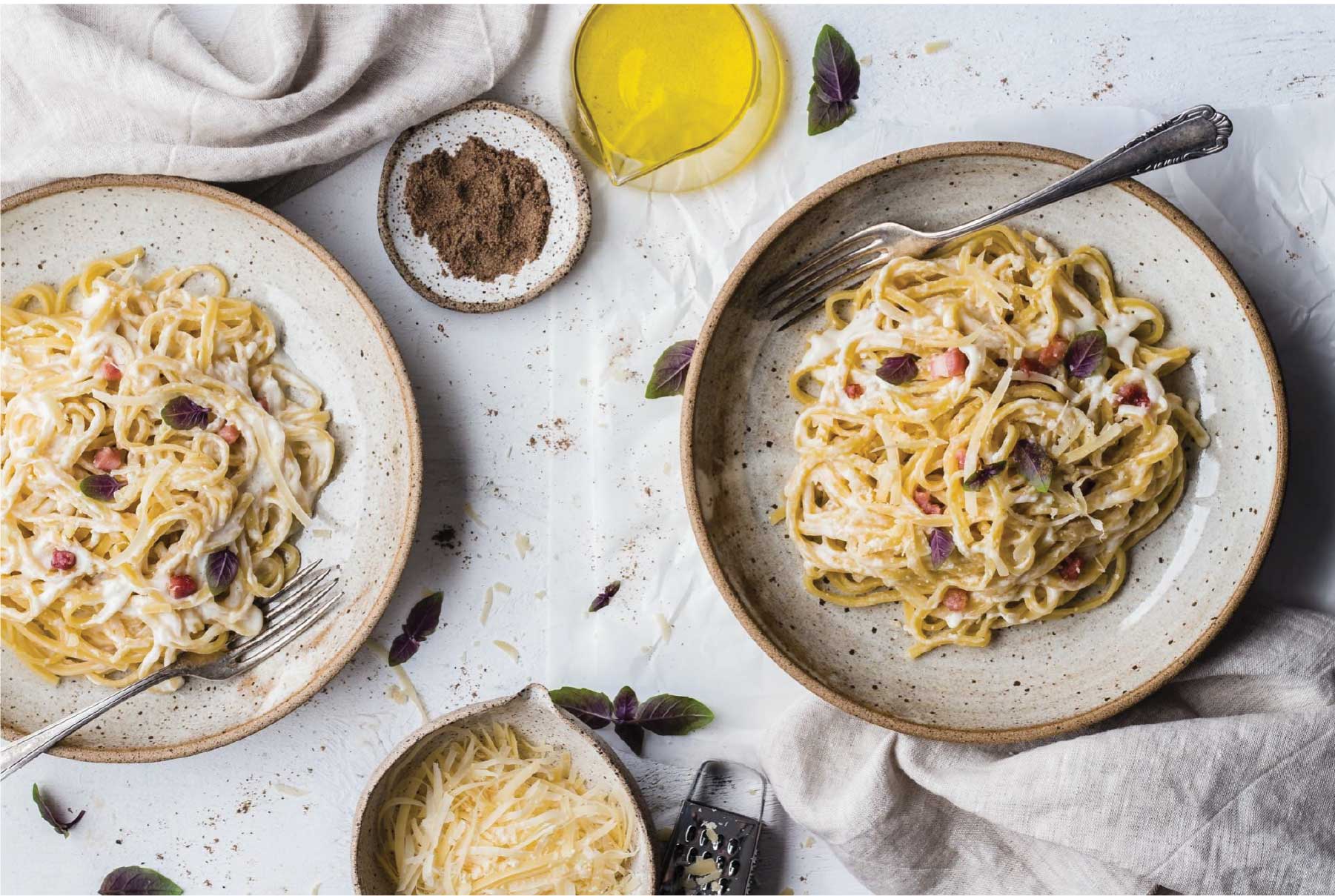 Is it safe to cook eggs this way?
Please keep in mind that the eggs will be slightly undercooked, and it isn't recommended for the elderly, young children, pregnant women, or people with weak immune systems to
ingest partially cooked eggs. The eggs would scramble if cooked until done, which won't make for a creamy sauce, but it is still safe to eat. Pasta Carbonara has a long history and is a favorite of pasta lovers everywhere.
Can I use other cheeses?
You absolutely can! While parmesan is the classic for Pasta Carbonara, any hard Italian cheese would do well. Romano is a great substitute, but you could just as well use Cheddar, Monterey
Jack, or a blend of your favorite cheeses.
Bacon or Pancetta?
Traditional Pasta Carbonara is made with guanciale, a robust meat made of pork jowl from central Italy. While it is possible to find it in certain specialty markets, bacon or pancetta makes
for a more common substitute.
Both bacon and pancetta are made from pork, but their flavors differ. Pancetta is a dried, salty meat, while bacon has a smokey taste. They can be used interchangeably, but I've always made Pasta Carbonara with bacon. This is because there is already a salty flavor to the sauce, courtesy of the cheese and salted pasta water. Adding in the bacon and a bit of the bacon fat
rounds out the saltiness and adds a smoky edge.
What about cream?
You can certainly add cream to this recipe for an even richer sauce. While it isn't traditional, it is still a welcome addition and can be used instead of the ½ cup of pasta water. Be aware that the dish is extremely rich as is without adding cream, so tread carefully.
Servings: 2-4 | Prep Time: 15 minutes | Cook Time: 20 minutes | Total Time: 35 minutes
Ingredients:
8 slices of bacon, cut into ½ inch pieces
8oz of spaghetti
1 cup of shredded parmesan (or more to taste), plus extras for servings
2 eggs, beaten
3 cloves of garlic, minced
¾ green onions, thinly sliced
Salt
Pepper
Parsley, chopped`
Olive oil
Instructions:
1. Chop, slice, and mince all your ingredients.
Before you begin cooking, slice bacon into ½ inch pieces. If using fresh parmesan, shred it into a bowl and set aside. Beat eggs in a large bowl. Mince garlic and chop green onions. Finally,
chop parsley.
2. Heat pasta water
Add olive oil and salt to a large pot of water and bring to a boil.
3. Saute bacon
While waiting for the water to boil, heat olive oil or butter in a fry pan over medium heat. Add bacon and cook until crispy (6-8 minutes). Remove bacon and set aside. Drain fry pan,
reserving 2 tbsp of the bacon fat. Return drippings to fry pan.
4. Cook the pasta
Once water has come to a boil, cook spaghetti, or pasta of choice, as its package instructs. Cook uncovered until al dente.
5. Saute veggies
Add minced garlic to the fry pan and saute for about 30 seconds. Add sliced green onions until tender.
6. Toss the pasta
Once the pasta is al dente, carefully drain it, reserving 1 cup of pasta water. Slowly add ½ of the pasta water to the bowl of beaten eggs and whisk quickly. Add parmesan cheese to the mixture. Add pasta to the fry pan. Add beaten egg and pasta water mixture to hot pasta and toss well to coat. Add bacon pieces, mixing well. Add salt and pepper to taste.Let pasta rest for 2-4 minutes, allowing sauce to thicken. Toss frequently to continue coating pasta. If desired, thin the sauce with the remaining pasta water as needed.
7. Serve immediately
Serve immediately, sprinkling with additional parmesan cheese, or cheese of choice, and garnish with fresh parsley.